Mandir Ke Kaarya Evam Uddeshy
Praacheen Misri Mandiron Ke Dhaarmik Kaarya Ko Anadekha Karane Ki Saamaanyaa Pravritti Rahi Hai. Isake Bajaay, Unhen Keval Kisi Art Gailari Aur/Ya Itihaas Ki Aspasht Tasweer Ko Jodane Vaale Tukadon Ke Roop Me Dekha Jaata Hai. Jabaki Vaastav Men, Misr Ke Mandir, Sampoorna Jagat Aur Sookshm Jagat (Maanav) Ko Jodane Vaali Kaadi The. Yah Vah Mnch Tha, Jahaan Neteru (Devi-Devataaon) Aur Janata Ke Pratinidhi Raja Ki Baithaken Sampann Hoti Theen. Hame Ise Rachana Aur Kriya Ke Beech Sambandh Ke Roop Me Dekhane Ka Prayaas Karana Chaahiye. Misri Mandir, Har Ek Ke Laabh Hetu, Daiveeya Urja Utpann Karane Aur Pradaan Karane Vaale Yantra The. Yah Aisi Jagah Thi Jahaan Neteru (Devi/Devata) Ki Brahmaandeeya Urja Avatarit Hoti Tatha Bhoomi Aur Usake Logon Ko Saraabor Kar Daalati. Jaisa Ki Vibhinn Praacheen Misri Lekhon Me Varnait Hai, Koyi Mandir Ya Gopurah
…Akaash Ke Khnbhe Jaisa Hai, (Mandir) Swarg Jaisa Hai, Apne Chaar Stambhon Par Tika Hai… Akaash Ke Kshitij Ki Tarah Chamakata Hai… Neteru Ke Swaami Ka Ghar Hai…
 Mandir Ki Yojana, Deevaaron Par Utkeerna Chitra, Tatha Pooja Ki Milee-Juli Shaktiyaan, Milakar Ek Hi Lakshya Ki Or Jaateen Theen, Us Adhyaatmik Lakshya Ki Or; Jo Alaukik Shaktiyon Ko Jaagrit Karata, Jisase Desh Me Samriddhi Ati.
Isaliye Misri Mandir Hamaari ''Aadhunik'' Samajh Vaale Saarvazanik Pooja Sthal Nahi The. Ye Vaastavik Daiveeya Sthaan The Jo Keval Pujaariyon Ke Liye Sulabh The, Usake Antarik Garbhagrih Me Keval Ve Hi Pravesh Kar Sakate The, Jahaan Pavitraa Sanskaar Aur Samaaroh Sampann Hote The. Kayi Maamalon Men, Keval Raja Ya Usake Adhikrit Sthaanaapnn Ko Hi Pravesh Karane Ki Anumati Thi.
Am Janata Ki Bhaageedaari, Mandiron Ke Baahar Ayojit Hone Vaale Vibhinn Devataaon Se Jude Parvon Aur Samaarohon Me Hua Karati Thi. Brahmaandeeya Taalamel Ko Kaayam Rakhane Ke Liye Aam Bhaageedaari Avashyak Thi, Isaliye Yah ''Poojaa'' Ka Anivaarya Ang Tha, Jise Nibhaana Pratyek Vyakti Ka Kartavya Tha. (Adhik Vistrit Jaanakaari Ke Liye Padhen, Moustafa Gadalla Dvaara Likhit Misri Rahasyavaad: Path Ke Saadhak.)
Aamataur Par, Misri Mandir Eint-Gaare Ki Vishaal Deevaar Se Ghire Hue Hote The. Yah Deevaar Mandir Ko Asapaas Ki Duniya Se Alag Karati Thi, Jo Prateekaatmak Roop Se Arajak Shaktiyon Ka Pratinidhitva Karati Hai. Saanketik Roop Se, Gaara Ya Keechad Akaash Aur Dharati Ke Milan Se Utpann Hota Hai. Isaliye Eint Ki Deevaar Ko Amataur Par Laharadaar Pravaah Vaala Banaaya Jaata Tha, Jo Sristi Ke Pahle Charana Yaani Aadi Jal Ka Prateek Hai.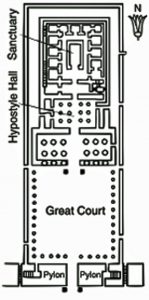 Mandir Ki Baahari Deevaaren Kisi Kile Jaisi Hoti Theen, Taaki Har Paap Se Isaki Raksha Kar Sake. Mandir Me Andar Jaane Ke Liye Do Gopur Hote The, Jinake Beech Khula Angan Hota Tha. Kaheen-Kaheen Is Angan Me Kinaare Ki Or Stambh-Shrrinkhalaayen Aur Madhya Me Ek Vedi Hoti Thi. Isake Baad, Mandir Ke Aksharekha Se Laga Stambhon Vaala Manadaap (Hypo-Style) Hota Tha, Jisake Ird-Gird Akshar Chhote-Chhote Kamare Hote The, Jinaka Upayog Mandir Ke Upakaranaon Ke Bhndaarana Ke Liye Kiya Jaata Tha. Ant Men, Garbhagrih Hota Tha, Jo Ek Andhera Kamara Hota Tha, Jisame Mandir Hota Jahaan Neter Ki Moorti Rakhi Rahati Thi. Garbhagrih Ke Kapaat Poore Saal Band Rahate The, Jinhen Keval Bade Parvon Par Khola Jaata Tha. Garbhagrih Ko Mahaan Asan Kaha Jaata Tha. Mandir Ki Deevaaron Ke Baahar Pujaariyon Ke Avaas, Kaaryashaalaayen, Bhndaar Tatha Anya Bhavan Hote The.
[An excerpt from The Ancient Egyptian Metaphysical Architecture by Moustafa Gadalla]
par pustak saamagree dekhen https://egypt-tehuti.org/product/ancient-egyptian-architecture/
————————————————————————————————————————-
Pustak kray aautalet: 
e – printed peparabaik amejan se upalabdh hain.
—–
bee – peedeeeph praaroop mein upalabdh hai …
i- svaroop vikalp daeen or.
ii- googlai pustaken aur googlai play
—–
ch- mobee praaroop mein upalabdh hai …
i- svaroop vikalp daeen or.
ii- amezan
—–
d- eepab praaroop mein upalabdh hai …
i- daeen or ithai praaroop vikalp.
ii- googlai pustaken aur googlai play
iii- ibooks, kobo, b & n (nook) aur smashwords.chom