Scarab Beetle
Re is frequently represented as a large black scarab beetle sitting in the solar boat and rolling the sun disc; or as a man whose human head is replaced by a scarab beetle.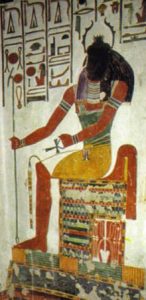 As such, Re is the original divine scarab. The Egyptian name for the scarab beetle was Khepri, a multiple word meaning:
This who brings into being.
Re (Ra) is described in the Unas Funerary (Pyramid) Texts:
"They cause thee to come into being as Re, in the name of Khepri".
Khepri the scarab beetle is one of the 75 Manifestation of the creation process—all being aspects of Re, the divine creative force.
Horapollo Niliaeus explains the symbolism of the scarab in this way:
"To signify the only begotten, or birth, or a father, or the world, or man, they [Egyptians] draw a scarab. The only begotten, because this animal is self-begotten, unborn of the female. For its birth takes place only in the following way. When the male wishes to have offspring, it takes some cow-dung and makes a round ball of it, very much in the shape of the world. Rolling it with its hind legs from east to west, it faces the east, so as to give it the shape of the world, for the world is borne from the east to the west."
In the Ancient Egyptian transformational (funerary) texts, the deceased, identified with Osiris, passed through analogous stages in the night of the underworld and was reborn as a new Ra (Re) in his form of Khepri (the scarab beetle) in the morning. The analogy to the sun—disappearing at night and appearing in the morning—is clear. The scarab is the symbol of the transforming quality of the sun; the light that comes out of darkness. Scarab amulets were customarily buried with the deceased to promote rebirth.
The scarab beetle is, therefore, always found at the beginning of a cycle.
Here it is associated with the cosmic egg.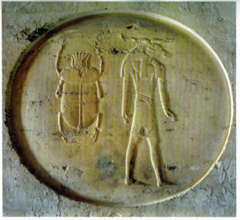 Here, it's at the beginning of a zodiac cycle that last about 26,000 years starting with the Age of Leo, the lion.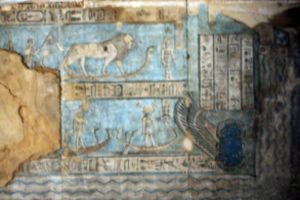 [An excerpt fromEgyptian Divinities: The All Who Are The ONE, 2nd Edition by Moustafa Gadalla]
https://egyptianwisdomcenter.org/product/egyptian-divinities-the-all-who-are-the-one-2nd-edition/